専任研究員 森 貴治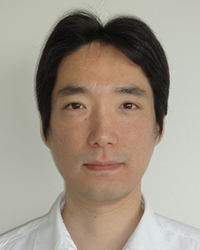 学歴
| | |
| --- | --- |
| 2003年 | 東京理科大学 理学部 化学科 卒業 |
| 2005年 | 東京理科大学大学院 理学研究科 化学専攻 修士課程 修了 |
| 2008年 | 名古屋大学大学院 理学研究科 物質理学専攻 博士後期課程 修了(博士(理学)) |
研究歴
2008年
理化学研究所 基幹研究所 協力研究員
2011年
理化学研究所 生命システム研究センター 特別研究員
2012年
理化学研究所 生命システム研究センター 基礎科学特別研究員
2013年
米国ミシガン州立大学 生化学分子生物学科 訪問研究員
2013年
理化学研究所 杉田理論分子科学研究室 研究員
2019年
理化学研究所 杉田理論分子科学研究室 専任研究員
理化学研究所 生命機能科学研究センター・計算科学研究センター 研究員 (兼務)
教育歴
2013年
ミシガン州立大学 生化学分子生物学科 インストラクター (分担)
2018年
中央大学理工学部物理学科・生命科学科 兼任講師
中央大学大学院理工学研究科物理学専攻・生命科学専攻 兼任講師
受賞歴
所属学会
日本物理学会、日本化学会、日本蛋白質科学会、日本生物物理学会、分子シミュレーショ学会、アメリカ化学会、アメリカ生物物理学会
研究テーマ
新規シミュレーション法の開発(クライオ電顕フィッティングなど)
分子動力学計算プログラムGENESISの開発
膜タンパク質のダイナミクス解析
原著論文
総説
Overview of the "1SBA: integrative approaches towards understanding of gene expression" session at the 57th BSJ meeting.
T. Mori and S. Sekine.
Biophys. Rev., 12, 253-254 (2020).
Molecular dynamics simulations of biological membranes and membrane proteins using enhanced conformational sampling algorithms.
T. Mori, N. Miyashita, W. Im, M. Feig, and Y. Sugita.
BBA-Biomembranes, 1858, 1635-1651 (2016).
膜タンパク質が触媒する物質輸送現象の分子メカニズム
(<小特集> 計算化学).
森貴治, 杉田有治
シミュレーション, 30, 30-36 (2011).
解説記事
分子シミュレーションによる新型コロナウイルススパイクタンパク質の糖鎖ダイナミクスの解析
森貴治, 杉田有治
Glycoforum, 24, A12 (2021).
書籍
"膜タンパク質の全原子分子動力学シミュレーション"
森貴治, 松永康佑, 杉田有治
膜タンパク質工学ハンドブック, 津本浩平・浜窪隆雄 監修, 第3章 第2節, pp.142-146
"スーパーコンピュータを用いた膜タンパク質の分子動力学シミュレーション"
杉田有治, 森貴治, A. Pisliakov.
膜タンパク質構造研究, 岩田想 編, 第26章 pp.222-229
プレスリリース
新型コロナウイルス感染の分子機構を解明-医薬品の分子設計に貢献する「富岳」による新しい知見-, 理化学研究所 (2021年2月18日)
クライオ電顕像からのタンパク質構造モデリングを高速化-巨大生体分子複合体の構造解析を加速-, 理化学研究所 (2018年10月19日)
超並列分子動力学計算ソフトウェア「GENESIS」を開発-「京」を活用し巨大生体分子システムのシミュレーションを実現-, 理化学研究所 (2015年5月8日)